Blog
Another two gorgeous girls I photographed at Kykkos Monastery Park the other day: Anna-Myria & little Elena, very pretty in their dresses, posing just like models and having lots of fun in the amazingly green park of Kykkos Monastery. The afternoon light is quite magic at this time of the year. You can see the […]
Leggi
Tutto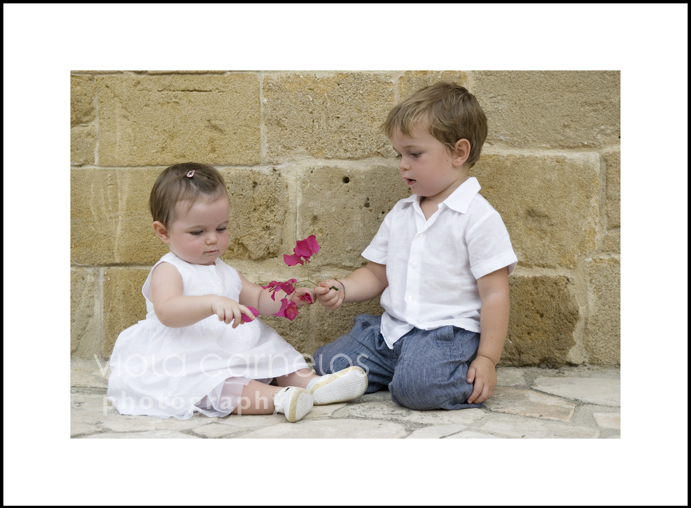 Blog
These are some snapshots I took of my friend Valeria and her gorgeous kids, Beatrice and Enrico, the other day. We went for a stroll in Agios Dometios and stopped by at a small church surrounded by a little park.
Leggi
Tutto
Blog
A perfect Mini Portrait Session in the beautiful gardens of Kykkos Monastery Nicosia with little Socrates and his parents. This sweet boy was such a pleasure to photograph. I was always surrounded by his genuine smiles and happy laughs. The portraits are natural and will just look stunning enlarged on walls of their home. I […]
Leggi
Tutto
Blog
I had the unique opportunity to portrait 10 actresses from the oldest English language amateur dramatics group in Cyprus  on stage during their preparations for the play "The Vagina Monologues". A fantastic experience; everyone was so full of energy and they enjoyed performing in a way I have rarely seen before. Ten women presented the […]
Leggi
Tutto
Blog
Last Saturday I had the honour of portraying theatre director Athena Xenidou. Athena received her Certificate in Directing from the Academy of Motion Arts and Sciences in Los Angeles and a BA in FILM STUDIES at the University of California at Santa Barbara. She holds a MA in MEDIA AND INTERNATIONAL RELATIONS. In the United […]
Leggi
Tutto
Blog
KidCulture Family Expo week-end – what a great success! It took place at "The Caves" in Akropolis, Nicosia. 420 families visited the show making it about 800 adults and probably as many kids. I had the fantastic opportunity to build up my own little studio behind my exhibition table, right underneath the caves. Very cosy, […]
Leggi
Tutto

Blog
This was our first real beach holiday and we all loved it, of course the kids could have stayed at the beach all day! There were many amazing photo opportunities; the below are just a few examples. I often propose getting a child portrait taken at a beach location. Kids over 1.5 years are often […]
Leggi
Tutto
Blog
My beautiful baby girl Thalia at 4 months! These are some of my favorites. I can never stop grabbing my camera and taking new shots of her. At this age babies really change so rapidly. Enjoy and more to come soon!
Leggi
Tutto