If you are planning a maternity photoshoot to celebrate your pregnancy, I am pretty sure you already have some ideas. Rest assured we will discuss them in our pre-shooting meeting, but le me propose my ideas and those of other mothers who asked me to document their motherhood from the very beginning. Here is a list of 50 to make sure you have enough alternatives.
1. Bump only: the main subject shown in its full shape. No frills, no complication, very elegant in black & white.
2. Full moon: the phase when the moon is at its brightest, just like the brightness of a new life inside of you.
3. Say it with a sign: maternity photoshoot also means having fun and express your personality. Spread the great news and raise some hype!
4. Simply a mother: classic, simple, elegant. Sometimes you don't need overcomplicated ideas, because you are beautiful as you are.
5. Contrast and lights: lights are photographers' best friends, if used properly. I love how the light gives a caress on the bump.
6. Your inner self: meditation poses communicate the idea of connection between you and your baby with sobriety and artistic touch.
7. Baby's shoes: they are beautiful because they look so tiny! They perfectly give the idea of a baby who needs all the love and protection in this world.
8. Waiting for you: photos like this fully express the feelings of a mother who is waiting for the day that will change her life.
9. Classic mother & father: one of the most popular and beautiful ideas: it shows the bond that unites you two and your commitment as parents-to-be.
10. Everyone in: the whole family welcomes their new member. This tenderness and smiles are the essence of the whole concept of parenthood.
11. The picture of love: no further explanation needed.
12. Daddy loves you: I think in a maternity photoshoot there should also be, when possible, some space for the baby's father. They love the baby, too, and a photo of them kissing or looking at the bump will deliver an outstanding shot!
13. Simplicity: show the beauty of your shape and wear just the essential. Maternity is the main subject, and you make it clear.
14. Hug me, dad (1): the father hugs the mother from behind in a gesture that reminds you and all the people who look at the photo of his protective role.
15. Hug me, dad (2): another maternity photoshoot idea could be only showing his hands. It gives that hint of curiosity, even though everybody knows his identity, and communicates that he will always be there for both of you, even when you don't see him.
16. The shrouded mother: when you will do your maternity photoshoot, just remember this: anything you cover your body with, you will always look splendid. Try a shroud on in different poses, and you'll see.
17. Short dress: if you are looking for something that highlights both your maternity curves and your legs, a dress like this is the best choice.
18. Long dress: if you are looking for an elegant result, with a simple look, go for a long dress.
19. Colourful dress and furniture: a good maternity photoshoot idea includes using elements like furniture and textiles and match them with your clothes to make a beautiful sophistication effect.
20. Move your hair: the perfect bond between maternity and feminine beauty. Hair is just an example, move your body (be careful!) and let the photographer capture those happy instants.
21. A delicate flower: it's what a mother and her baby are. But just like a rose, they'll protect themselves with their thorns.
22. Mom, daughter/son, and toys: welcoming a new member in the family has a playful side. Show it with the baby's older siblings.
23. Change of perspective: with some perspective tricks, the bump will look bigger and rounder.
24. Artistic nudes: the poetic side of pregnancy is undressed!
25. Measures that matter: in order to highlight your round bump, you have to show how big it is. I know it sounds counter-intuitive and weird, but trust me, you' ll get what you expect.
26. Vivid colours: wearing dresses with bold colours on a clear background will enhance your bump shape!
27. Windy: a scarf or a loose dress with a fan (out of the framing) can give some motion to your shots, making the photos look more dynamic.
28. Shot from the shoulder: I find this perspective very interesting. Simple elements, but shot in an unconventional way.
29. What's his/her name?: the idea of the sticky notes with the probable names is very creative. Each note has a story, and it is also a nice picture to send over to friends and relatives and get their opinion.
30. Light and shadow game: playing with contrast and a sepia effect overlay make very evocative photos.
31. Pure white: it is the colour that is mostly associated with innocence and with the pure heart of children. Evocative and simple.
32. Their toys: If you already bought some toys for your baby, that's a good idea to get some funny shots.
33. Creamy colours: look at this photo and see how the different tones of cream match the colour of the skin to create a fine look.
34. Keep smiling! (1): the focus is not only the bump and the baby it carries, but also the mother's smile. During pregnancy, women experience many different feelings, and joy is one of them.
35. Keep smiling! (2): the more spontaneous the better! No single shot will be wasted.
36. Keep smiling! (3): an extra touch can be given with a well-balanced grey scale. Your smile will still be the focus of the shot, but the aesthetic result is totally another story!
37. Deep feelings (1): another way to represent a mother-to-be's feelings is capturing her gestures. Actually, not just her own.
38. Deep feelings (2): pensive faces always provide great maternity shots.
39. Deep feelings (3): photos like this explain very well the meaning of those nine months of wait.
40. Fearless: maternity is a challenge you are not scared to take!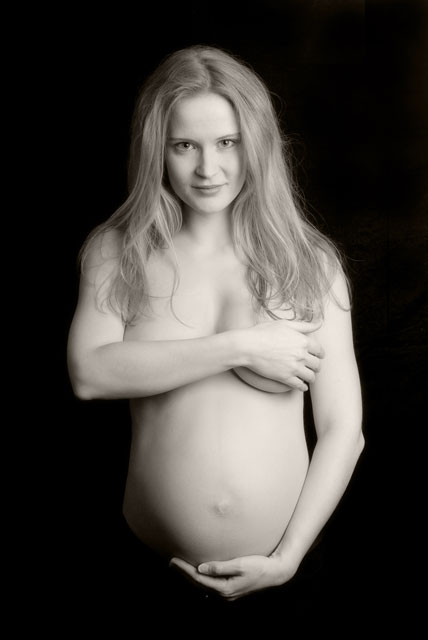 41. Skin to skin: bodies that touch each other, communicating how strong is their bond. Beautiful!
42. Black on black: black dress on a black background highlights your skin tone. If you are blonde, it will be superb!
43. Colours on black (1): alternatively, if you are not blonde, a coloured shirt or blouse will still highlight your face and hair. This is with light colours:
44. Colours on black (2): and this is with a rich coloured dress:
45. Floral dress: a flower that blooms symbolises a new life. Why not extending this concept to your maternity wardrobe? Photos will be amazing!
46. A bit shy: if it is your first pregnancy (and the first pregnancy photoshoot), you might be a bit nervous, but let me tell you a secret: even in those moments you'll look beautiful.
47. Romantic mum and dad (1): a romantic hug with the bump in the middle is another one of those must-do photos.
48. Romantic mum and dad with props: use shoes, toys, and any other props you want to communicate your expectations as a couple of parents-to-be.
49. Romantic mum and dad (2): same idea, just a different style.
50. Your own idea: before the shooting we will schedule a meeting to make sure evertything is planned and organised properly. That is your chance to explain your maternity photoshoot ideas!
Do you want to book a maternity photoshoot in west London? Contact me and let's do it!
Deciding what to wear for your spring family photo shoot can be just as challenging as finding the right photographer. Most of you…
Send me an e-mail to discuss the available options and find together the best solution to suit your needs.