Last week on Thursday my studio was set up for a portrait session and I had half an hour before the session started. So I took the time to portrait my own kids, something I should really do much more often.
Time passes so quickly and children grow and change so quickly, right? Often there never seems to be the right moment or there are so many other things we need to do, but what is more important than having images of your child's different phases in life?
I have three children of my own, which means plenty of practice and experience when it comes to child photography 🙂 However, every time I photograph them it's like a new experience. Children are never the same. They are unpredictable; full of surprises.
Let me give you some useful information about my speciality, artistic child photography:
What is the most important element when photographing children (of any age)? Having the ultimate patience . I am always highly determined to capture the personality of children and their true nature. In order to succeed, patience is required, my patience as the photographer and the parent's patience. It's essential to work at the child's pace. Sometimes I take several great shots within the first 10 minutes, other times it takes 30 minutes before I get the first great image.
I take notice of their individuality and aim to photograph the quiet, the tender and the active moments. When looking at the portraits in a few years time you wish to remember those moments and the versatility of your child's personality.
So let me show you some of the images I took that day:
This is my 5 year old, Lavinia. She likes to pose, but often this doesn't come very natural. So I wait a bit and photograph in-between those 'set-up' smiles.
And this is nr. 2, Allegra, 3 years old, very cheeky, little patience…. she NEVER does what I ask her to do. I had to carry her back to the background at least 5 times within 10 minutes. My job seemed more like that of a aerobic instructor than a photographer. But it was well worth it, I managed to capture her spirit in so many images, it was hard to choose, which ones to keeo. So I kept them all 🙂
This is a classic portrait. Compare it to the second one. It's a close-up of the first. I love getting close. Images have such a great impact when you move close to your subject. "If your pictures aren't good enough, you aren't close enough." (Famous words of photographer Robert Capa)
A good portrait doesn't always mean that the person has to look straight into the lens.
And also, children are not always smiling. As mentioned before, for me it's absolutely essential to capture the child's mood. Looking at the next image I recognise my daughter; this is one of her typical expressions:
Black&white photography, timeless and classic:
I asked her to sit still, just for 5 seconds, but, of course, 'no' was the answer. I love this image, it's just so 'Allegra':
A couple of quiet 'thinking moments':
A genuine smile: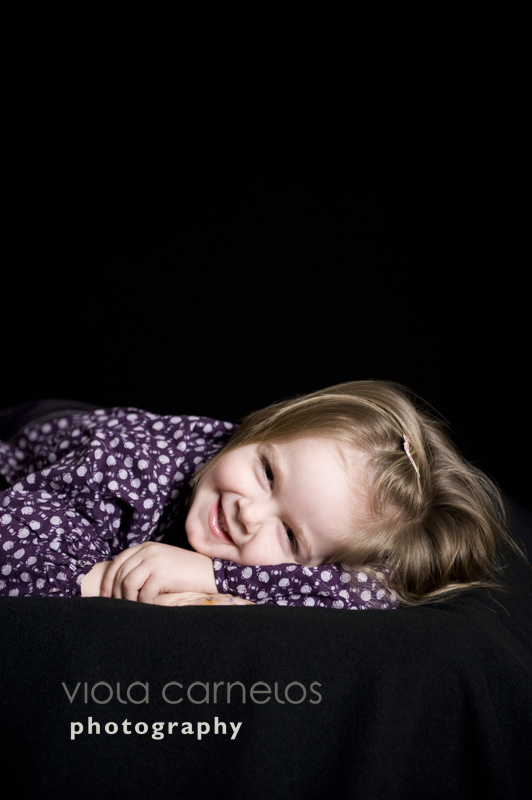 Same image, but close-up:
And a snapshot of my 'crazy' little girl. Nice foot Allegra 🙂
And here comes nr. 3, Thalia, 9 months old and very much on the move. Not for 2 seconds would she sit still and I needed the help of two other people to distract her and carry her back in front of my lens, because every time I did that I didn't even have time enough ti grab my camera and she was already away from the background.
Her eyes are blue, just like my father's. So I had to crop into this image and get closer:
Strong colours look fabulous on black. It's also great to dress your child in something that is the same colour as his/her eyes. This way the eyes would shine even more.
And then all of them together…. but they had no more patience and I ran out of time. Next time 🙂
After this brief photo shoot followed a 2.5 hour photo session of a 9 months old boy with his parents. Images will soon be posted on the blog.
If you are looking for a child photographer who creates unique colour and black&white images that are both artistic and heartwarming than give me a call!
Viola
Following our temporary closure during the lockdown, we are now working toward a return to offer outdoor photo shoots in Richmond. The studio…
Send me an e-mail to discuss the available options and find together the best solution to suit your needs.