A dream wedding, which was such a pleasure to document from the first to the very last moment.
Melissa and Regas met back in 2001 in the US and have lived there ever since. Last Saturday was their wedding day, which they celebrated on the grounds of the Mosfiloti house, which belongs to Regas' brother George.
The day, however, started in a lovely apartment in Limassol, where Melissa prepared herself in the company of her sister Jennifer and closest friends from Denver. So let's start with some documentary images from the afternoon of the 30th June:
Melissa's wedding dress, skirt and corset top, by designer Monique Lhuillier and a beautiful white flower decoration for her hair.
Maid of honor Holly, ready in a lemon colour dress and hand made jewelry.
In the meantime Melissa and Regas' two sons, Roman and Nicos aswell as their cousin are enjoying a few moments of TV before getting ready themselves.
Roman and Nicos showing me their very special gift from their parents:
Very cool indeed! Nicos in front of the mirror. I already had the opportunity to portrait them at the village house a couple of weeks prior to the wedding, Pre-Wedding Portrait Session, and I must say again, what absolutely stunning models these two boys are.
Barb, Melissa's mother, also ready to go now, in an elegant light blue dress and a fabulous pair of shoes: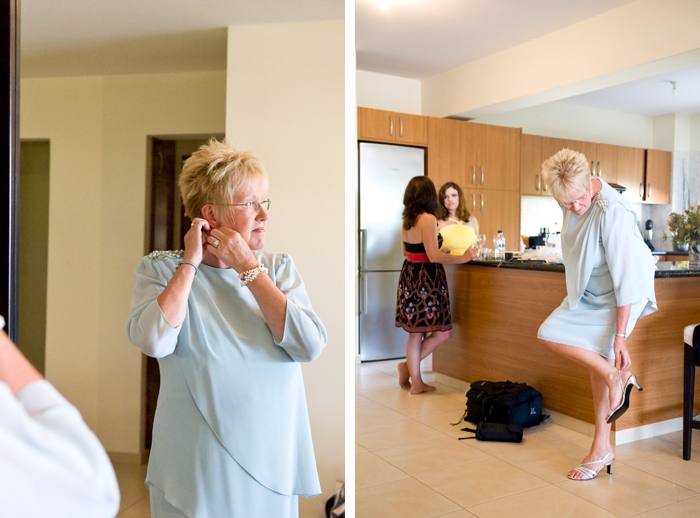 Jennifer, Melissa's sister. I loved her dress, very unique and it suited her ever so well:
No words describe how stunning Melissa looked. Now almost ready to get into the limousine. But we had, luckily, a few minutes to capture a series of images close to the large window, where lots of natural light was streaming into the room, making her skin glow: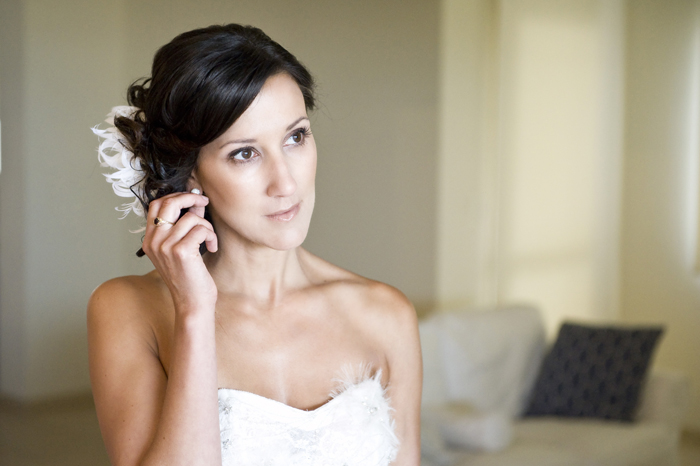 Amy is also a very passionate photographer using a manual film camera from Nikon and black&white film. Would love to see the images she captured on the day!
I dashed off quickly after this last shot in order to arrive prior to the bride and have some time to photograph this amazing, colourful decoration around the pool. Wild flowers of strong colours were Melissa's preference, lemons everywhere and a table covered with a white cloth for many very personal details such as photographs of the couple's grandparents.
The colour yellow could be found everywhere in form of flowers, ribbons, lemons and, of course, Holly's dress!
A lovely and very particular idea were the small booklets placed on the dinner table with questions about the couple, to be answered by the guests. The pool was surrounded by the tables, many light bulbs were draped above the pool… a magic atmosphere in the beautiful evening light. And you wouldn't believe the view from there over the nearby hills, simply stunning.
Regas' bother and best man Chris during the traditional ceremony prior to the wedding:
And then I noticed the block mounted collage of various images I took a couple of weeks prior to the wedding. A nice memory of the couple's stay here in Cyprus this summer as well as a piece of decoration that fitted in perfectly:
'And here comes the bride': Roman expecting his mother
And Jo, Melissa's father, ready to walk his daughter to the chapel:
Right beside the gardens a little gate was open and gave us access to the fields surrounding the house. Neither Melissa more Regas wished to have images that are too posed and I could also see that the boys were looking forward to change into their comfortable trainers!
Nevertheless we took a few minutes to take a series of natural family portraits. I was so glad to still be able to take advantage of this magical warm evening light as supposed to switching to flash. The colours are exactly how I saw them, warm, a gold-reddish glow over the hills. Should I ever be so lucky again to portrait anyone of Melissa and Regas' family here in Cyprus I would most certainly return to this spot in the early evening hours.
Also very nice converted into b/w, here are a few images:
Eleana, Melissa's niece, with her gorgeous children Maya and Noah: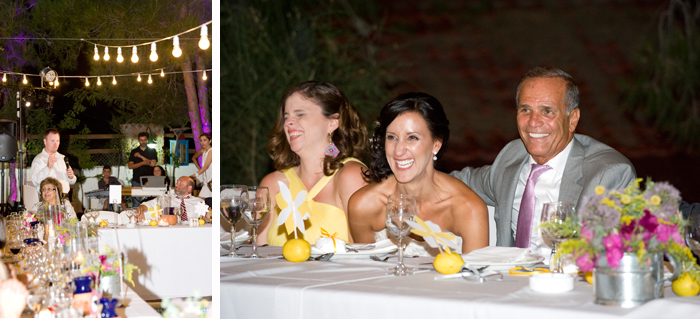 Now the last light had almost disappeard behind the hills and everyone started enjoying the traditional Cypriot meze around the pool.
And now let's party!
As it was getting later the younger guests started to fall asleep, but the dancing continued with some traditional songs, very emotional indeed and a unique experience for all the guests from across the atlantic:
Melissa and Regas, I wish you both all the best for your future! It was more than just a job for me to capture these images, it was a real pleasure, great experience and honor. I hope to meet you again during your next visit here in Cyprus!
Viola
Following our temporary closure during the lockdown, we are now working toward a return to offer outdoor photo shoots in Richmond. The studio…
Send me an e-mail to discuss the available options and find together the best solution to suit your needs.