It's no secret that I love in home sessions and my style: Newborn Lifestyle Photography! After every in home newborn session I realise this again. Staying in home for your newborn session is intimate, authentic and safe. I love my outdoor sessions, but there's always something a little extra special about a family allowing me into their space to capture their life.
My style for these sessions is called NEWBORN LIFESTYLE PHOTOGRAPHY.
I decided to dedicate this article to this particular style of newborn photography, explaining how it works and showing you the results of this recent photo shoot so that you know what to expect.
Should I have an in home or studio newborn session for my baby?
Newborn Photography is such a beautiful way to celebrate the birth of your new baby. As you embark on the search for the "perfect" photographer for you and your family, you will have a number of questions.
There are thousands of Newborn Photographers, but none are the same. Each of us have a unique style. It can feel impossible to choose.
One of the main things you want to ask yourself is whether you feel like taking your newborn to a photo studio or prefer to stay in the comfort of your home. My reason for offering in home newborn sessions is based on valuable feedback I received over the past years from new mothers as well as inspirations from successful overseas photographers practising in home photo shoots. So let me explain:
In home photography means you don't have to pack anything or go anywhere.
This is especially beneficial when you've just brought home a new baby because odds are, you're exhausted and the idea of packing up the van to go get photos done sounds like a nightmare… am I right?
Having a new baby in the house changes everything. Going from zero to one child, two to three, whatever the change it has its challenges. Having your newborn babies photos taken in your home eliminates the one, and sometimes seemingly impossible step, of packing everyone up and leaving the house. Me, your photographer, I come to your home allowing you to enjoy more time together as a family. Your new baby is going to be more comfortable where the sounds and smells are familiar, allowing me to capture more photos of your baby at ease.
It takes time to adjust to this new life when your baby was born. And where do you feel most comfortable with your baby? At home. And there are many good reasons for this:
everything is familiar
you got yourself organised and know where to find everything
You will be comfortable when feeding your baby
You have plenty of baby outfits at hand
The room temperature is ideal
You have your own bathroom with everything you need
In home newborn photography is more comfortable for the entire family, especially when there are older siblings to consider.
So for your photo shoot at your home there is no need to pack a large bag for your baby and yourself and leave the house for several hours. Everything stays as it is, plus there is no rush.
In home newborn photography is safer for your new baby
Newborns have an incredibly sensitive immune system and exposing them to germs outside the home can be risky. And if you're introducing your new baby to siblings, it's easier to control those interactions in the comfort of your own home.
Safety is my number one concern. Keeping babies delicate immune system protected is at the top of my safety list and keeping your baby at home ensures that exposure is minimal in the first few weeks of life.
Newborn Lifestyle Photography captures your families true essence
While I do "pose" new babies in the home, my main focus is on the family connection and love. Being in your home space allows me to observe this unique stage in your life and incorporate personal elements of your home and routine into your photos. In home photography ensures that you remember this fleeting moment in time as it was, imperfectly perfect.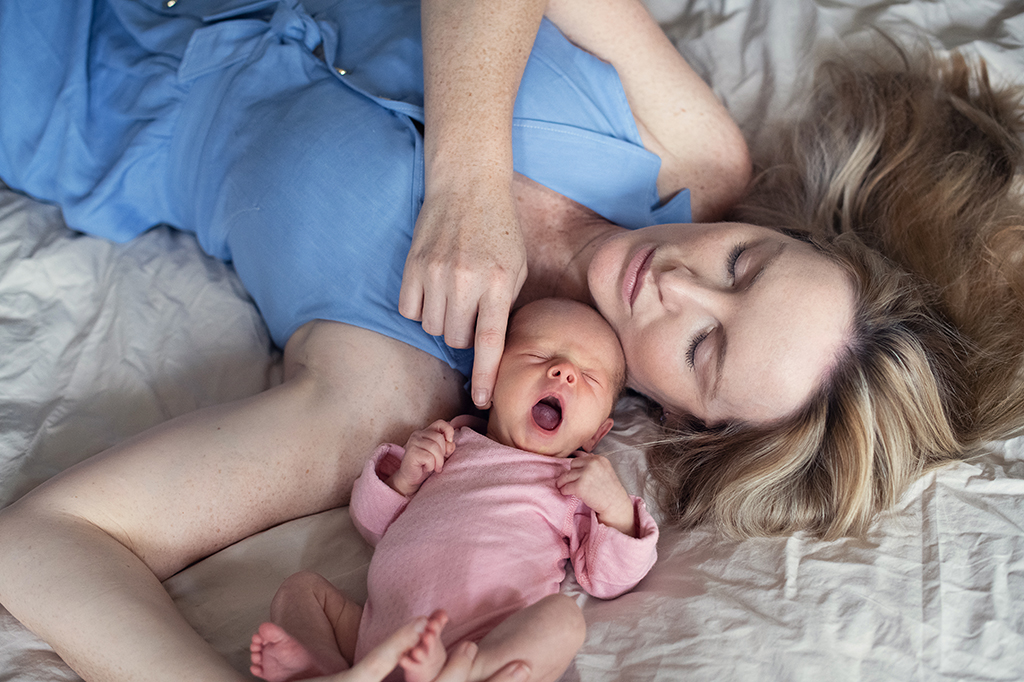 This is quite different to traditional newborn photography, where babies are molded into an unnatural position to fit into a bucket or crate. I strongly believe their safety is at risk. It's simply not worth it to put a newborn at risk only to be able to capture a pretty photo.
A newborn should not spend an extended amount of time alone on a bean bag, in a bucket or crate only to eventually get the desired posed photograph. A newborn, no doubt, needs to be held, comforted, and ultimately with their parents and in their arms as much as possible.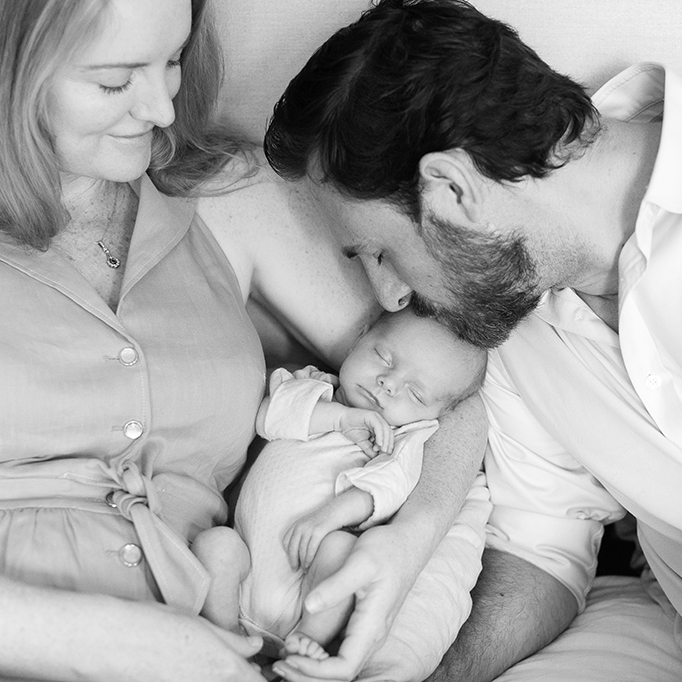 During my sessions, babies will be for most of the time in their parents arms, where they belong.
A photo session should be stress free
Being a mother of three I know very well what it's like to have a newborn. It is already quite stressful. In the beginning of my journey as an artist I would spend up to three hours at a newborn session, trying to make the baby sleep, trying to get the poses just right etc. Newborn sessions should not last more than 2 hours and we should not have any expectations. Awake or asleep, babies are always perfect as they are.
Pets
Yes pets! They undoubtfully belong to the family and can easily be incorporated in a photoshoot conducted at home. Taking your pet to a photo studio will be rather stressful. But at home your pet will most likely be willing to be in the photo when he/she is allowed to sit on the couch or bed. Of course it's only an exception 😉
Another question you will probably ask yourself: how old does my baby need to be for their newborn photoshoot?
Some photographers want you to have the photos taken in the first ten days of life, but I am not one of those photographers.
As already mentioned, my style of newborn photography is called Lifestyle Newborn Photography. What that means is that I will be doing very little posing which means that the baby does not need to be super sleepy, as they are in the first ten days, for their photos.
I think babies are perfect just the way they are and I am happy to do a newborn style shoot at any age. That being said, they do change and grow very quickly in the first weeks of life. I recommend trying to get the shoot scheduled before the baby is three months old, just to capture that newborn sweetness.
In summary, in home newborn photography is safer, more comfortable, and more authentic. It is a beautiful way to capture this moment in your life that I assure you, goes all too quickly.
I'm sure you have many more questions, like for example:
What shell we all wear?
How long does the session last?
How many images will I receive?
Do I get the digital files and are you offering prints and albums?
Please don't hesitate to call me and we can have a chat to answer any question you may have. You can also send me an e-mail, or visit my website.
I look forward to portraying your wonderful family soon!
Viola
In this brief article I would like to explain a particular part of my journey as an artist: Why I decided to practice…
Send me an e-mail to discuss the available options and find together the best solution to suit your needs.