YOUR PHOTO SHOOT
Everything you need to know to book your session and view your photos
Your photo shoot - be it for personal, pregnancy or family portraits - should be a pleasant and relaxing time. I will make you feel comfortable, without asking you to pose for too long in a difficult position, or wear clothes that don't reflect your personality.
My goal is to meet your expectations and to create the photographs you've been dreaming of, to display at home and show your family and friends.
Years of experience working with children have taught me that our little ones sometimes can be shy, stubborn or unpredictable. Sometimes they love pretending to be little models, but sometimes they get grumpy and refuse to take part. My job is to make the shoot fun for them, too, adjusting to their mood so things may proceed at a pace that suits them. Before we begin, your children will have ample time to become familiar with the set up, and we'll interrupt the session whenever necessary: to take a break, feed the baby, or change a nappy.
MY APPROACH
I concentrate my efforts on depicting human relationships so as to be able to capture love in every shot. During a session, I welcome physical contact and closeness between my photographic subjects: they give me the chance to practice my signature style of creating warm, intimate photographs that tell your story and convey genuine emotion.
Sometimes us women, always busy with children and work and a thousand little jobs, can feel unattractive or tired. But not to worry: you'll have ample time to relax and let yourself be photographed in the light and at the angle that best reflect your beauty and personality.
My services include retouching any small imperfections in adherence with my editing style. You'll be able to see the result during the appointment scheduled for viewing the proofs. For any additional retouching requests there will be a fee.
The price of my shoots is reasonable and payment is required in advance. All my quotes are very detailed and I will not ask you to purchase additional services unless you wish to do so. Like a boutique, I don't focus on quantity, but strive in everything I do to ensure the highest quality of my services and complete satisfaction of my clients.
All of the photographic products I offer are highly sophisticated. I only work with the best framers and professional designers specialising in photo albums.
INFORMATION ABOUT THE PHOTO SHOOT
It is very important for me to get to know you and find out what you expect from your photo shoot. I have many images and ideas to show you, but for your photo shoot I will be guided above all by you and your children. The most beautiful moments happen spontaneously and I'll capture them in detail, along with those intense looks, tender smiles and the most genuine expressions of those I'm working with.
All of my photographic services, including those for christenings, weddings and other events, include three appointments.
How to book an appointment
All of my services are tailored to the needs of the customer, in order to produce an impeccable shoot and photographs that aren't just beautiful, but are also highly refined and in line with your expectations. This is why our first meeting is so important: this is when you get to tell me what you want from the photo shoot, ask me questions, hear my advice, talk to me about your ideas and the values that you want to convey through the photographs I'm going to take. If you prefer, we can talk over the phone. In any case, I suggest it's always best to schedule this meeting 1-2 weeks before the photo shoot itself.
In the case of formal events, such as weddings or christenings, I will always scout the location in advance in order to familiarise myself with the setting you have chosen.
PHOTO SHOOTS
The photo shoots themselves can take place either in my studio or in a location of your choice. The studio is located in the heart of Richmond, and its comfortable environment is suitable for individual shoots or groups of up to four people. I designed my studio as a separate, purpose-built space attached to my house, with the aim of creating a welcoming place where you can really feel at home. This way I am able to create candid, personal shots that convey true and profound feelings.
We'll find the best time in the day to schedule your photo shoot together, taking into account your engagements, your family schedule, and the times of your little one's meals and naps. For example, nine in the morning is the best time to photograph children, who are usually at their best early in the day.
My photo shoots are always an opportunity to relax. There is no rush, we'll take all the time we need to take the best pictures, based on your needs and the age of your family members. A shoot takes generally up to two hours.
My clients often book well in advance, so my advice is to schedule your photo shoot as soon as you decide to choose me as your photographer. The busiest times are the September-December periods and Sunday morning.
WHEN SHOULD I COME?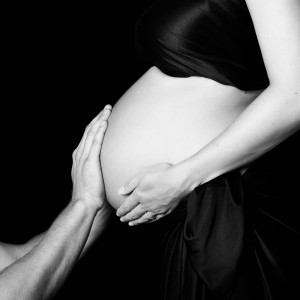 Pregnancy
The best time for a photo shoot during pregnancy is between the 30th and the 33rd week, when you still have a lot of energy and any feelings of nausea have generally disappeared. Your belly by now will be of the perfect size to be shown off in your most beautiful maternity clothing.
If you're expecting twins, I suggest scheduling the shoot around the 26th- 28th week.

Newborns
The first two weeks are ideal: at this time your baby is more relaxed and sleeps often, which makes it possible to try some artistic poses. Then, when your baby wakes, we'll be able to take beautiful pictures as he or she looks into the camera.
Newborn photos are generally artistic nudes, and without a nappy on it's quite normal to run into some… little accidents. This isn't a problem whatsoever and will give us the opportunity to take a little break.
I set aside up to three hours for a photo shoot with a newborn: that's how long we need to take pictures in total relaxation, leaving enough time for breastfeeding and for baby to adapt to the new environment. It's a great honour for me when a mum chooses me to be the first professional photographer to portrait their child. I strive to make the session stress-free, looking after you and your little one in an attentive, calm and professional manner.
From 5 to 9 months
This is another great age to shoot. At 5 months babies learn to sit up unsupported, then slowly they start to crawl. Bring with you any objects you want included in the photographs and some colourful clothes or accessories that match the baby's skin tone, to make the shots more fun.
These sessions last an hour and a half and include both family portraits and individual baby portraits, with or without accessories.
For your child's first birthday, bring some fun items of clothing and, if you wish, even the birthday cake: we'll turn the photo shoot into a celebration of this important milestone for yourself, your child and the whole family.
Early childhood
After the first birthday, we'll be able to prepare together a photo shoot that reflects the personality of your child. On our first meeting, I'll be able to give you some advice on which clothes and accessories to choose in order to create beautiful photographs tailored to your child. As always, I'll make this session pleasant and relaxing both for you and for your little one, so it can become an unforgettable experience.
CLOTHING
Clothes are one of the most important elements of the photo shoot: this is why during our first meeting we'll carefully plan what you're going to bring.
It's always useful to bring both light- and dark-coloured clothing. If you're planning a couple or group portrait, it is not necessary for clothing to match. My only advice is to avoid logos, prints or text that may distract from the subjects. If your child is very young, bring a change of clothes and remember that both of you should be dressed as if you were going to the same place.
In my studio I have a wide range of accessories, scarves and materials we can use, however often my clients choose to bring their own outfits along in order to achieve more personal images. If you have something special you'd like to bring with you, for example a hand-knitted blanket, a favourite teddy, flowers or colourful toys, I will be very happy to use them in the shoot.
VIEWING THE PROOFS
After the photo shoot we'll make an appointment to view your pictures. Depending on the type of service chosen, I'm going to show you between 20 and 40 photographs on a large screen at high resolution. This number can be higher for formal occasions like a wedding. The digital files will be ready for you to take home on a USB stick. During this appointment you'll also be able to make any additional orders (for instance, Fine Art prints or albums).
If more people are involved in the selection of the images, it's important that they are all present during the viewing of the proofs: this way they'll be able to discuss all of the great options I offer, choose the ones they prefer and are best suited to everyone's needs.
Important note: I always strive to save all of the material and to back-up each of my photo shoots. However, I can only guarantee that the images will remain archived for the first 4 months.
BOOKINGS
I am committed to offering you the most beautiful images and the best service. It goes without saying that I devote to each client the time necessary to create a highly refined photo shoot and ensure a relaxing and comfortable experience. This is why bookings are essential.
Contact me to book your session or to find out more about my services and the available options.