My third daughter's Christening took place on the 19th December, only two days after we arrived in Rome. Unfortunately it was a dark and rainy day, unlike the previous two Christenings, which took place in the summer of 2006 and 2008.
We gathered in front of the parrocchia Santa Prisca, a beautiful church dedicated to St Prisca, a 1st century martyr. Due to confusion between Prisca and Priscilla, it is also known as Santi Aquila e Prisca. The identity of St Prisca is uncertain. One tradition claims that she is identical with Priscilla, who is mentioned in the New Testament, another that she was the daughter of Aquila and Priscilla. In the Acts of the Apostles (Acts XVIII, 1-4), it is written that St Paul stayed with Aquila and Priscilla, Jewish Christians exiled from Rome, when he was in Corinth and again in Ephesus after they had moved there. Later, they were apparently able to move back to Rome, as St Paul sends his greetings to them there (Romans 16, 3-5). The tradition claims that this was her house. This has been challenged, and Prisca may be another woman altogether. No private house has been found underneath the church – in fact, a temple to Mithras was found during excavations in 1940 and 1958. It has, however, been established that Christian worship was established here at an early time, as ancient terracotta lamps with the chi-rho monogram has been found. The commonly accepted date for the church is the 4th or 5th century.
source: http://romanchurches.wikia.com/wiki/Santa_Prisca
Despite the weather conditions and the darkness inside the church, my friend and photographer Alex Gritti www.alexgritti.com managed to capture some precious moments for us. A special Thank You to Ale 🙂
So, here we go, starting with an image taken minutes before we entered the church. Thalia was still in a relatively good mood..
Always playing with my neckless… and, believe me, she wouldn't let go throughout the entire service!
Inside the church with my oldest daughter Lavinia:
This is one of my favorites. Thanks again Ale, it's adorable:
And now look at this! These are images from Lavinia's and Allegra's christening. They were about the same age. Thalia looks especially like Lavinia, quite amazing:
And this is Allegra in May 2008. Not a high quality image; I never had the digital files and had to photograph the image.. never mind:
Some moments before the ceremony. Thalia was starting to become restless:
The ceremony. Daniela, a close friend of ours and wife of Maurizio, is Thalia's madrina and Piergiorgio, my husband's cousin, is Thalia's padrino. Thanks to both of you for accepting this role and being so wonderful!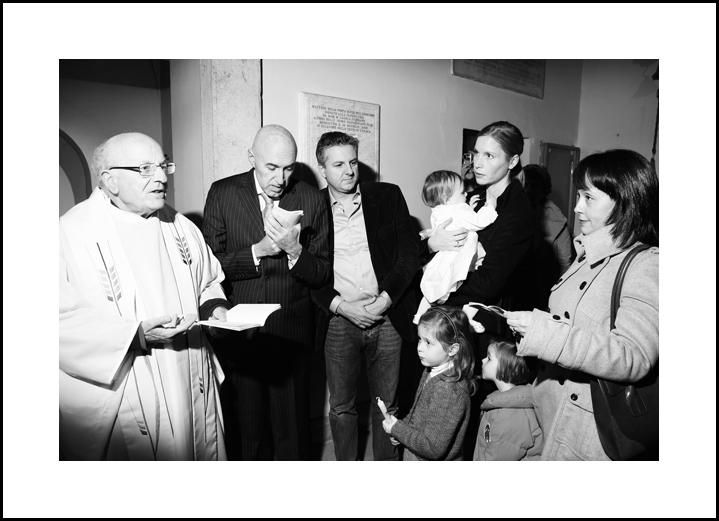 Another one of my favorites: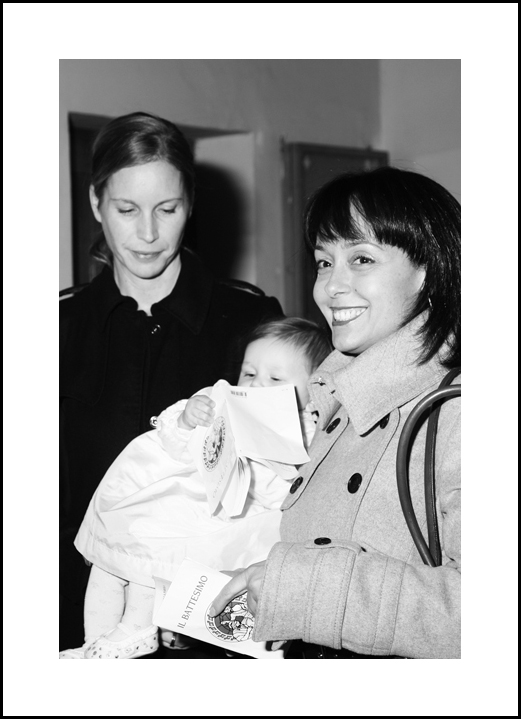 Already crying before the water even touched her head.. just as well this wasn't a Greek Orthodox christening, where the baby gets completely undressed, dipped into water (several times!) and then dressed again! I have photographed numerous christenings here in Cyprus. They are very emotional and beautiful.
Holding my own daughter during this catholic ceremony was so very special:
Madrina Ulla, one of my oldest and best friends, and padrino David, one of my husband's cousins, of my second daughter Allegra back in May 2008. (Ulla cara, you haven't changed a bit since the early 90th 🙂
The obligatory group photos and Thalia really wanting to be left in peace. What an afternoon!
See you all again soon (but there won't be a forth Christening!)
Viola, Massimo, Lavinia, Allegra & Thalia 🙂
Following our temporary closure during the lockdown, we are now working toward a return to offer outdoor photo shoots in Richmond. The studio…
Send me an e-mail to discuss the available options and find together the best solution to suit your needs.